What is Rich Media?
According to Wikipedia, Rich Media is "a broad range of interactive digital media that exhibit dynamic motion, taking advantage of enhanced sensory features such as video, audio and animation".  With the increasing penetration of broadband internet services, Rich Media marketing will become a must for all hotels that want to connect with online consumers.
How does Rich Media benefit the travel consumer?
In the hotel and travel industries, rich media is fast becoming the marketing tool of choice.  This importance is driven by a demand of travel consumers to "experience" the sights and sounds and most importantly the "value" of one hotel compared to another, prior to making a booking decision.  Rich media marketing is a key part of hotel positioning in a very crowded and commoditized online travel world.
What are the benefits of Rich Media to your hotel?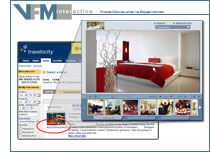 Rich media immediately sets your brand or hotel apart in the online channel. It allows you to make an emotional connection with your consumer. At the same time, it communicates your commitment to providing your customers with the tools they need to make important decisions. And it provides 'stickiness' – consumers will remain longer at your site or on your listing, interacting with your property longer.

For brands, rich media can support brand-wide messaging and positioning, ensuring consistency and control across the portfolio, and across the Internet.

Of course, the ultimate benefit of rich media is in the bottom line. Rich media leads to more bookings both on and offline (register for Rich Media ROI webinar).
Is Rich Media most valuable on my hotel's web site or distributed widely?
Rich media is a valuable addition to your own hotel website or brand site. However, distribution of your rich media across the electronic channel is critical given the shopping behavior of online travel consumers. Recent statistics show that consumers will visit between 3 and 6 sites during the booking process.
Comparison shopping at third-party sites such as Orbitz, Travelocity and Priceline attracts millions of travel consumers daily. Many are booking there, but almost as many are using these sites to compare properties, then going on to book directly at supplier sites. In fact, figures from PhoCusWright indicate that 3-4 out 10 visitors to an online travel agency will continue on to book directly with the supplier.  As such, hotel marketers are recognizing the importance of having quality images and rich media everywhere a consumer may find them on the Internet, often driving them back to their own sites.

VFM's media distribution network is the largest in the industry reaching over 20,000 travel sites, portals, search engines, corporate booking engines, meeting planner sites, and GDSs. Our comprehensive coverage ensures your media is seen where your potential customers are shopping and booking.

Research and White Papers
| | | |
| --- | --- | --- |
| Article Name | File Size | Download |
| A white paper from Sapient, a leading business and technology consultancy, reporting on the importance or rich media for travel suppliers. | 663kb | |
| A comprehensive research study from Harris Interactive examining the importance of visuals - both quantity and quality - to the consumer's booking decisions. | 201kb | |
| A comprehensive white paper from DoubleClick examining the rapid growth of rich media and its effectiveness as an online advertising tool. | 224kb | |
| | | |

Industry Articles
| | | |
| --- | --- | --- |
| Article Name | File Size | Download |
| "With the advent of Web 2.0, travel companies are realizing they must incorporate rich media and other tools in order to enrich the customer experience." | n/a | |
| "When it comes to reserving a hotel room online, what criteria are important? According to a recent survey of US internet users, being able to see the place is key." | n/a | |
| "The Keynote study revealed steady growth in the number of consumers stating they use the Internet to book lodging accommodations as compared to those using other methods, such as calling hotel reservation lines or calling a travel agent." | n/a | |
| "We know that the typical travel consumer visits multiple websites, shopping and comparing the available options. This is where it becomes vital to understand the factors that impact consumer decision-making BSEB. For hoteliers, it can mean the difference between a cursory once-over and a booking." | 32kb | |
| | 36kb | |
| | | |